Ultraviolet is the fourth EP by American electronica project Owl City, released digitally on June 27 2014, through Republic Records. The EP's lead single, "Beautiful Times", which features violinist Lindsey Stirling, was released on April 8, 2014.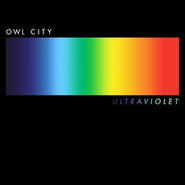 Owl City released a series of modified monochromatic images on his social media, in promotion of Ultraviolet's release.
Other images were released displaying the lyrics of the song's contained in Ultraviolet, when each song's visualizer was released.
There were two releases of Ultraviolet: the first release on July 27th 2014, which contained all four songs listed in the tracklist above. (N.B. All song pages linked from this page refer to this edition of Ultraviolet)
The second release of Ultraviolet replaced the original version in the iTunes store, and was renamed as Ultraviolet - Single, released May 14th 2015. It contained only three songs, omitting This Isn't the End. It's omission was most likely due to the song being featured as the last track on the then-upcoming album Mobile Orchestra.
Community content is available under
CC-BY-SA
unless otherwise noted.