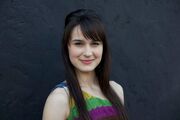 Breanne Elizabeth Dürenberger, aka Breanne Düren, is an electronic American singer. She has worked together with Adam Young/Owl City, most notably in the song, The Saltwater Room.
Born on October 9, 1987, she is often seen as a side musician alongside Owl City in concerts, and has done duets with Adam. She was born in Minneapolis, Minnesota and her label is dürendüren. Her music career has been active since 2008.
When she attended college, a friend of hers suggested for her to work with Adam Young of Owl City. Her vocals are featured as a duet in the songs "The Saltwater Room" on Owl City's first and second studio albums Maybe I'm Dreaming and Ocean Eyes), She also provides vocals for "The Tip of the Iceberg", and "Honey and the Bee" and sings background vocals in "On the Wing" and "Air Traffic". She can also play instruments, such as the keyboard and provides backing vocals for Owl City on tours. In 2012, when she toured with Adam, Düren replaced Carly Rae Jepsen on the live version of "Good Time." She also provides backing vocals in the band previously with Adam Young Swimming with Dolphins, "Silhouettes".
Instruments played
[
]